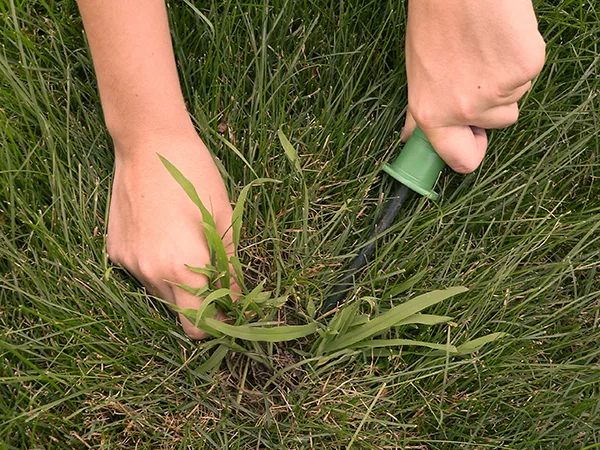 The easiest time to stop crabgrass is in the spring before it becomes a nuisance in the summer. Crabgrass seeds can start to germinate in the spring once the soil reaches 55 degrees. Hillside's early spring pre-emergent weed control is our most beneficial and longest lasting application. This treatment prevents crabgrass and broadleaf weeds from invading later in the summer. If these pesky weeds aren't treated before germination, it can be difficult, if not impossible, to eradicate once they become established in the turf.
Hillside chooses the best products on the market and applies them using state-of-the-art equipment to ensure the lawn is treated safely, efficiently, and effectively. If we can stop most of the weed seeds from germinating, then the turf will grow in thicker and healthier. A lawn with no weed competition will produce grass that will stand up to drought, heat, and traffic far better than a weedy lawn.
Getting in Early
We can eliminate weeds once they are established, but a lot of damage is already done. Crabgrass growth takes away valuable nutrients and moisture, making your turf struggle to stay green. So, let us apply an early season pre-emergent application and watch the lawn flourish.
Here are some other helpful lawn care tips for preventing crabgrass:
Mow at the proper height. You can discourage crabgrass by mowing higher, usually at one of the top two settings on your mower. This allows for taller grass blades which shade the soil, preventing crabgrass germination.
Feed regularly. A thick, full lawn seldom contains crabgrass because there's simply no room for it. Hillside's lawn care programs follow an optimum feeding regimen.
Deep water your lawn. Weeds like adverse conditions more than most lawn grasses. Frequent, shallow watering encourages shallow root growth, so it is better to water your lawn less frequently but deeper (about 6 inches deep). This will encourage lawn grass to develop deeper, stronger roots.
Repair lawn damage. Crabgrass will be killed by frost in the fall. Hillside offers late fall fertilization treatments as well as aeration and seeding services. Fill in the bare spots and ready your lawn for the following spring.