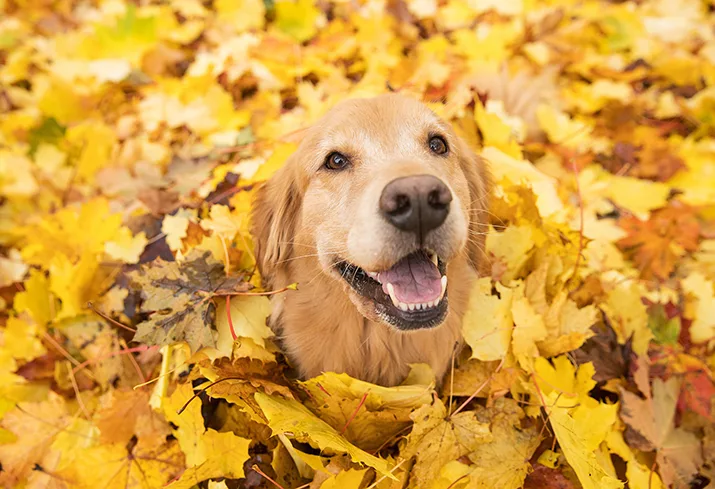 While kids might think the reason for raking leaves is just to make leaf piles for jumping in, Hillside knows that the best way to ensure a thick, green turf in the spring is to lift leaves off your lawn and continue lawn maintenance throughout the fall. Here are the top 5 to dos for fall lawn care.
Remove Leaves.
Decaying leaves will prevent airflow and sunlight from reaching the turf causing disease issues and overall turf decline. A lawn carpeted with fall foliage is initially a thing of beauty, but leaves brown and become a sloppy mess. Pick them up throughout the season so raking doesn't become a cumbersome chore. Here's a quick video from Real Simple magazine to see the easiest way to rake leaves.
Aerate and Seed.
Prevent brown, spotty patches in turf by letting your lawn breath. Core aeration puts plug holes in the turf to open up the soil so grass roots can drink in more water and. While the soil is freshly disturbed, lay down seed to fill in the gaps.
Continue Mowing.
Another to do for fall lawn care is to mow tall and mow often. Keep your blade height high even if this means you have to mow more often. Plus, if you mow high and more often, you'll have a better chance of mulching up the downed leaves which will mean less raking!
Fertilize.
From now through December, your lawn needs constant care and protection. A balanced fertilizer and weed control in early and late fall prevents weeds and provides fertility to maintain color and density of the lawn going into the winter.
Keep to a Schedule.
Each of these tips is vital if you want a healthy, green, weed-free lawn and each step has to be done at the right time or the effort is wasted. Delegating some of these chores to Hillside is the way to go when the fall is busy with weekend sports and activities. In many cases, these chores require heavy equipment that is hard to operate and often in short supply at rental yards. Call us to ensure the work is done timely so you can enjoy a thick carpet of healthy green grass next spring.