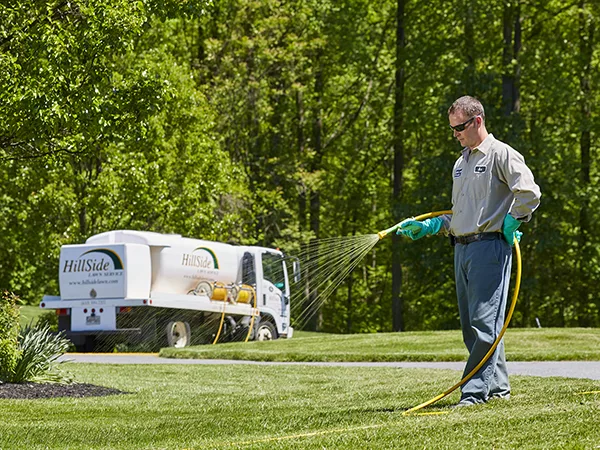 Don't let the cooler temperatures of autumn fool you. Cool temperatures are best for fertilizing your lawn. By taking advantage of softer soil, cooler temps and tired turf, fall fertilization can penetrate deep down and prepare your grass for a gorgeous spring green up!
Your lawn takes a breather after the long hot summer days. Grass growth begins to slow down as your lawn prepares for winter dormancy. By feeding your fall lawn with a Maryland Department of Agriculture's approved controlled-release nitrogen product, we can boost winter root development for next year's growth. Controlled-release nitrogen will release smaller amounts to the grass over a longer period of time. This leads to uniform growth and a thick lawn to defend against drought and weed pressure next spring and summer.
We like to do our heaviest fertilizing of the year in early fall. This stimulates growth and helps the grass fill in thin spots. It also helps root development and allows the grass to produce the food that it stores to help it get through winter and get off to a good start in the spring.
We offer a fall fertilization as part of all our bundled programs. If you add the Hillside aeration and seeding package, we apply a special starter fertilizer to help new seed to ensure your turf will grow thick, green and luscious this spring.